For my card reading alchemists who give intuitive card readings to yourself or others...
There's a new way to learn how to intuitively read oracle cards
so well that you never doubt yourself or miss the message again.
If you're a healer, lightworker, coach, starseed, medicine woman, intuitive, ascension specialist, spiritual entrepreneur, alchemist, or a card reader who uses oracle (or tarot) cards in your own journey or with clients, you need this!
Elevate your intuitive card readings and your confidence to the next level to create the transformational healing experiences you and your clients need to live the aligned, purposeful life you are here for.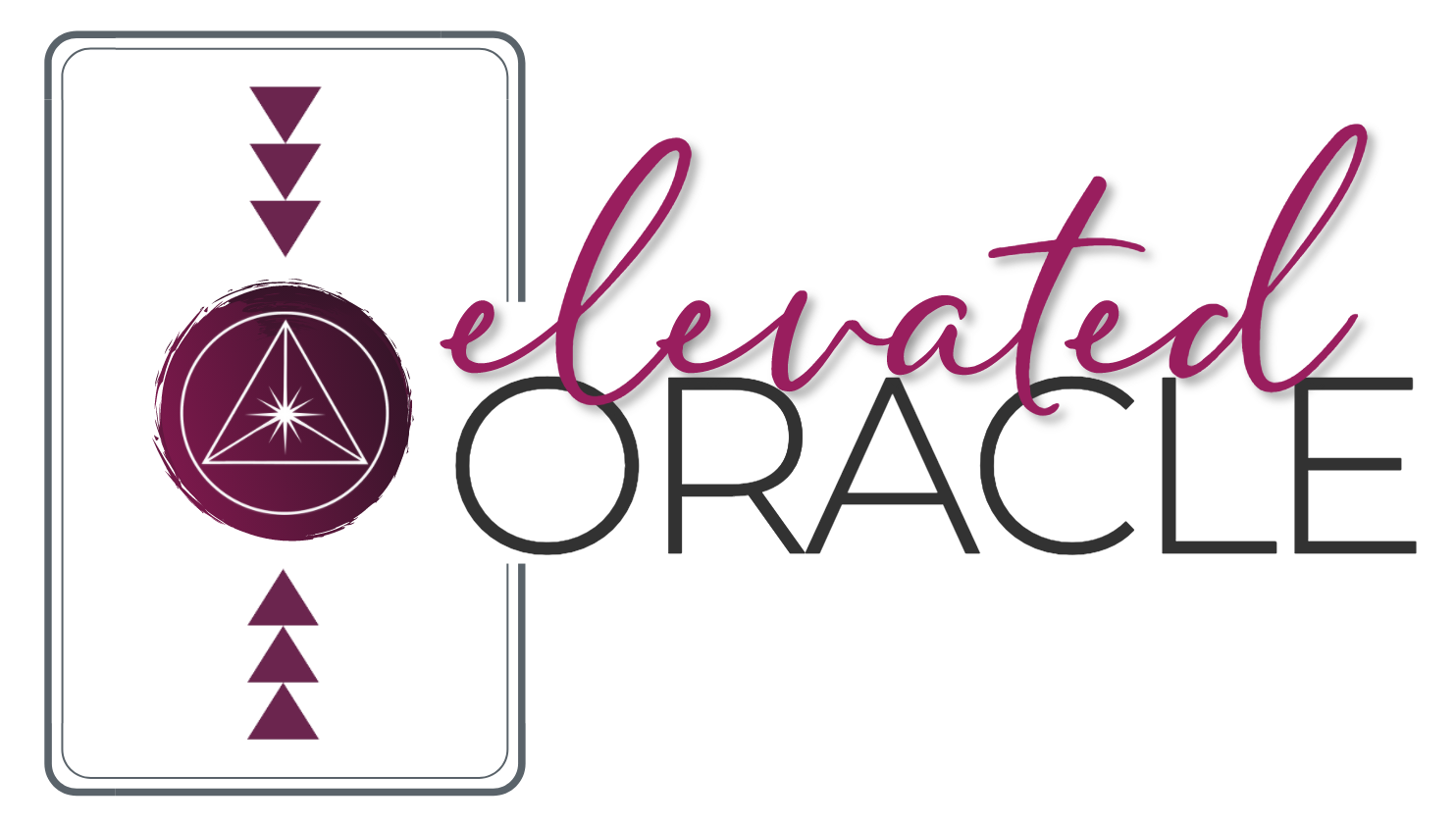 is an immersive online experience to intimately work with the essence of your oracle decks so you can take your readings + healing to the next level.

Perfect for card readers, healers, light workers, intuitives, ascension specialists, starseeds, coaches, alchemists, and spiritual entrepreneurs who want to use their spiritual gifts and their oracle cards to make a difference in the world.
Elevated Oracle is a 4-week online immersive experience to bond and partner with your oracle decks at a depth you've never known before so you can become the open, flowing channel through which readings from your deck can come through you with clarity and ease.
You'll WOW your clients with your spot-on readings and you'll amaze even yourself at the clarity and healing your readings offer.
The 6 Facets to Elevating Your Oracle Readings to the Next Level

Activate your Triad of Sacred Frequencies to create the inner and outer environments needed for channeling readings from the spirit guides in your oracle deck with clarity and ease.
Wake up your cellular memory of the soul language used in your oracle deck that will communicate with you so you can deliver a clear and accurate message.
Activate the energy exchange portals between you and your cards and begin exchanging energy with your deck so that it answers your questions quickly and easily every time.
Meet and communicate with the spirit guide in your oracle deck to learn about the unique ways the deck wants to work directly with you for deeper, more meaningful readings guided by Spirit.
Become a clear channel and translator for receiving detailed messages from Spirit so you can facilitate healing and transformation for others.
Master your inner senses to clearly identify when messages are coming through your readings and what those messages are.
What's Inside Elevated Oracle?
+ Elevated Oracle Live Group Experience

Synergy is created when a group of awakened women gather for 4 LIVE group rituals + trainings to learn and uplift the collective.
+ Four (4) Revolutionary Rituals + two (2) Luminous Meditations + three (3) Trademark Techniques
The rituals, meditations, and techniques used to strengthen your spiritual gifts and align your energy will bond you with your oracle deck and strengthen your communication pathways like never before to elevate your oracle readings to the next level.
+ Carefully Crafted Intuitive Oracle Exercises
Fun exercises and oracle games to work with your oracle cards, the spirit guide in the cards, and your intuition to learn new ways of cultivating messages in your readings.
+ Elevated Oracle Journal
Track your journey through the course — the oracle exercises, your readings, your new relationship with your oracle deck, and your intuition — in our gorgeous journal designed just for this journey!
Inside Elevated Oracle you'll experience 4 rituals designed to help you master your readings and read with confidence so that you can deliver masterful readings every time.
Take a look at what you'll experience inside the course…
Ritual #1: Activation of the Sacred Triad
Experience an activation of the sacred triad as you create safe, Sacred Ground for your readings, awaken your Sacred Gifts, and download your Sacred Symbol.
In ritual #1 you'll be guided through a simple process to create the inner and outer environments needed for channeling readings from the spirit guides in your oracle decks so they come through with clarity and ease, and are exactly the message that is needed in the moment.
By the end, you will have:
Created your Sacred Ground that leaves behind the mundane world and connects you with the magical, intuitive cosmos for clear channeling of your oracle card readings
Activated your Sacred gifts that will take your readings up to the next level
Download your Sacred Symbol that contains the light codes of your oracle super powers and soul gifts.
Includes:
a Sacred Ground Checklist
a printable Invocation
Module 2: The Body Frequency Gateway
All elements of life have both a physical aspect and a spiritual aspect. When you only work with one aspect and not the other, there is no wholeness — your card readings come from a fragmented state. It is difficult for clear and complete messages and meanings from your cards to flow through you from this fragmented place.
The physical "body" of your oracle deck is the container that holds the archetypes, symbols, stories, and mythology. It's the artwork on the cards and the energy contained in that art. All those symbols in the cards make up the language that the oracle spirit guide and your higher self are going to use to communicate the messages in the cards to you.
In ritual #2 you'll be guided to enter the Body Frequency Gateway of your oracle deck where you'll use the See Feel Know Method to activate your energy exchange portals and The Big Picture Study to connect with the physical aspect of your cards to begin waking up your cellular memory of the archetypal symbols on the cards and exchanging energy with your deck.
By the end, you will:
Know the big picture and intention of your oracle deck
Understand how to activate and exchange energy with your oracle deck
Learn the language of your oracle deck and its spirit guide
Includes:
an exclusive DECKtionary Journal + Digital Template
Numerology + Colorology cheatsheets
10 Common Symbols cheatsheet

Module 3: The Spirit Frequency Gateway

There are luminous beings who hold the collective wisdom of humanity and know your exact soul language to be able to communicate that wisdom directly to you in a clear way. These are the spirit guides in your oracle decks.
In ritual #3, you'll be guided to enter the Spirit Frequency Gateway of your oracle deck where you'll use the Mirror Method to meet and connect with the spirit guide in your oracle deck and begin to attune yourself to your spirit guide's frequency.
By the end, you will:
Connect with the spirit guide in your oracle deck
Create a custom interview process and interview your spirit guide
Develop your spirit guide persona
Includes:
Spirit Guide Interview Spread Creator Tool
Module 4: The Higher Mind Frequency Gateway
The mind is the portal through which incoming information from the cards passes to the Higher Self. The Higher Self and your oracle spirit guide receive the information, extract the message, and translate it into your soul language then pass it back to you to deliver. You receive different parts of the message through different senses.
In ritual #4, you'll be guided to enter the Higher Mind Frequency Gateway where you will ride the Illuminated Elevator to open your intuitive channel so that you can send and receive information with the Higher Self. You'll also practice The Tell Technique to learn your body's signal for when you are receiving important information. It's through the open channel to the Higher Self that Spirit can work through you and put your spiritual gifts and your oracle cards to work bringing healing and transformation to the world, and through your tell that you know what to act on.
By the end, you will:
Understand the difference between your psychic and intuitive senses
Open your channel so that messages can come through clearly
Learn your intuitive tell to know what information to act on.
It's time to elevate yourself and your spiritual gifts.
Does this sound intense?
Don't worry — it's quite the opposite! When you allow yourself time and space to sink in, let your guard down, and relax into your ritual and homework time, you'll feel like you've come home to yourself so that you remember who you are. This is self-care (and it feels soooo good)!
My courses are designed to help you "reconnect" to Spirit, to yourself, and to the practices that help you get grounded so you can stay aligned while dealing with the crazy world around you.
And when you get centered, aligned, and grounded, you naturally open up and the messages from your cards flow through like cool, refreshing stream of water…
without over-thinking
without worrying that you'll get it wrong
without effort trying to figure out what the symbols on the cards mean
...just ease and flow.
No need to figure things out on your own or take time memorizing things about your cards either. To help you quickly find your flow in Elevated Oracle, you'll get:
+ Sacred Ground Checklist
A quick reference checklist for creating the perfect, welcoming, receptive, inner + outer sacred space so that you are attuned to your oracle deck and messages can come through without the energetic distractions that cause confusing and incomplete readings.
+ My exclusive DECKtionary Journal + Digital Template
Create your own custom, intuitive cheatsheet and study guide for each one of your oracle decks with this one-of-a-kind journal and template. The digital template allows you to paste your card images directly into the journal to create a totally custom, printable guide of your unique Soul language spoken in your decks.
+ Spirit Guide Interview Spread Creator Tool
Go deeper than an old fashioned deck interview spread by interviewing the spirit guide of the deck instead. This tool gives you 6 different ways to interview and interact with your oracle deck spirit guide to develop a deep, trusting relationship.
And did I mention bonuses? No course would be complete without them! To make sure you have everything you need for your Elevated Oracle experience, you'll also get:
BONUS: Rolodex of Oracle Decks (value $27)
A list of my favorite and most talkative go-to decks when I have questions or need help so you know exactly which deck can best help you with each type of question you ask. This helps you match a deck to a question and a deck to a spread.
BONUS: New Deck Prep 101 Workshop (value $97)
Need to break in a brand new deck? I've got you covered. In this quick starter course, you'll learn all the important basics, including how to:
*choose the right deck for you
*properly unbox, cleanse, activate, and store your deck
*easily create reversals
*shuffle and intuitively pick cards
*know which rules to throw out the window that dull and cloud your intuition
BONUS: Create Your Own Oracle Deck in Under an Hour Workshop (value $47)
No oracle deck? No problem. You can create your own simple oracle deck and start giving yourself readings in under an hour.
BONUS: Eleven 3-card spreads to rock your readings (value $27)
Powerful readings can come from just three simple cards. These eleven 3-card spreads will help you get the clarity you need and the guidance you desire on a variety of topics for your daily life and your spiritual growth.
BONUS: The 31-Day 'Who am I?' Oracle Challenge (value $47)
The 31-day oracle challenge kit includes a calendar of daily prompts, a gorgeous workbook, weekly + final review exercises and a bonus workbook called The Wish Petition to learn to see yourself through the eyes of your new Oracle Spirit Guide.
BONUS: Grow Your Own Mandala Mini Course (value $47)
Learn how to draw beautiful mandalas as a form of meditation to empty your mind and clear your intuitive channel so that you can hear and trust your intuition, and your intuitive card readings can flow right through you with ease.
BONUS: Pop-Up Facebook Group (value $997)
This is where you'll find the supportive environment to be who you are, develop your unique reading skills and gifts, have accountability from an awesome group of like-hearted women, and get my personal feedback to improve your readings.
By the end of the course, you'll have the:
connection + communication + confidence
to offer readings that are healing and life-changing to your family, friends, clients, and yourself… and make money using your spiritual gifts doing work that you love (if you so choose)!
Your Instructor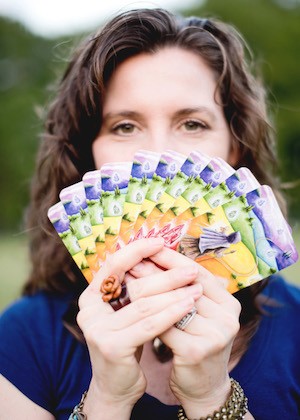 Everything you desire is inside of you. The more you look to the outside world for answers, the further from your desires you go. Are you ready to shift from "want" to "have"? Then let's take a journey, shall we? Hi, I'm Jen Blumenthal, Founder of Intuition School + Human Spirit Guide for awakening women craving more meaning, connection, and joy in their lives with flow and ease. The secret lies in finding your unique flow and ease first, which then leads naturally to the rest. To help you find it, I'd love to share the wisdom of oracle cards + the magic of the moon, guide you through the healing process of Soul Art, clean up your energy, and help you make friends with your (very talkative) intuition as we explore the unique landscape of your Soul and empower you to free your awakening Spirit. Curious to know more? Let's play!
Course Curriculum
Welcome + Getting Started - orientation for the course
Available in days
days after you enroll
Ritual #1: Activation of the Sacred Triad - Saturday, Jan 9th
Available in days
days after you enroll
Ritual #2: The Body Frequency Gateway - Saturday, Jan 16th
Available in days
days after you enroll
Courses Included with Purchase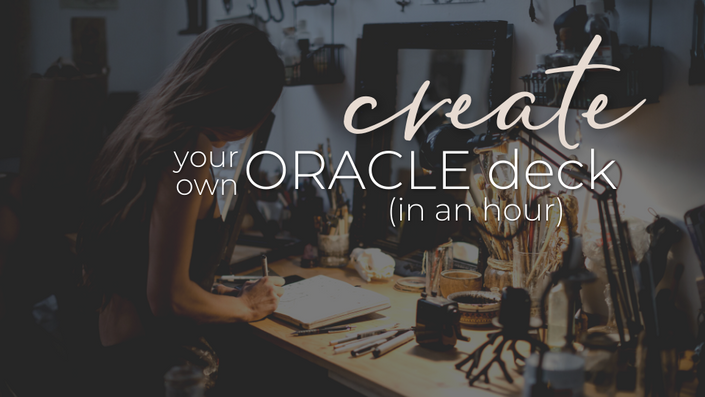 Create Your Own Oracle Deck (in an Hour)
Create a living, breathing oracle deck in an hour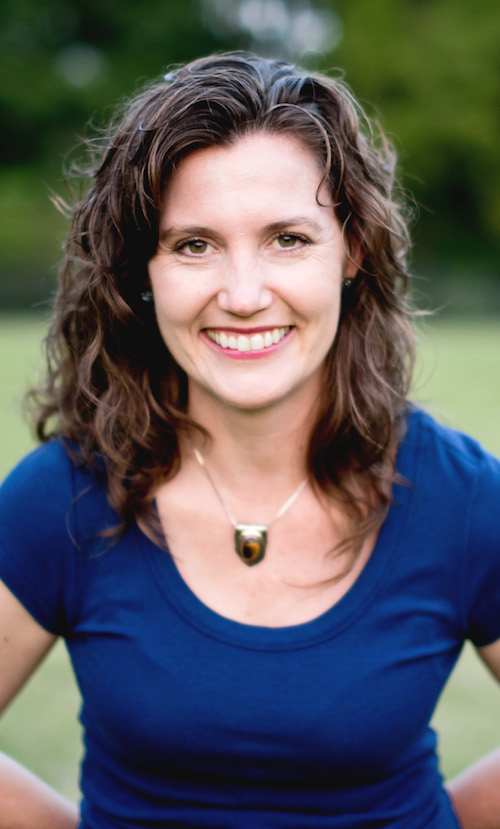 $47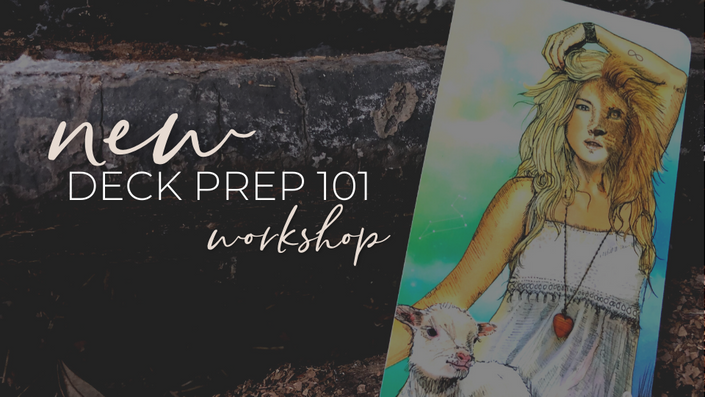 New Deck Prep 101 Workshop
Get started with your deck the right way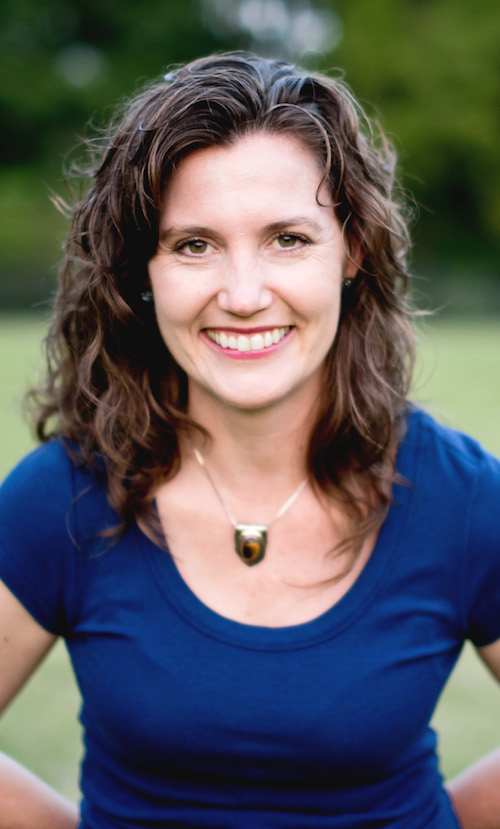 $47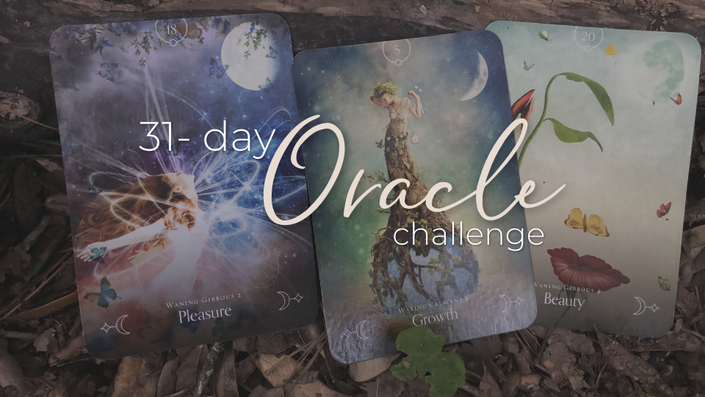 31-Day 'Who am I?' Oracle Challenge
Get to know yourself through the lens of your cards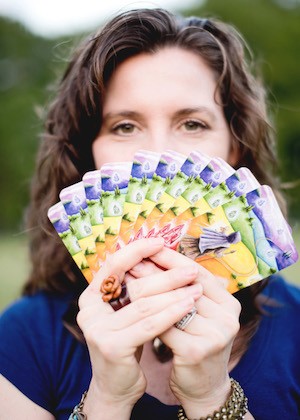 $47
Original Price: $141
Frequently Asked Questions
When does the course start and finish?
The course starts now and never ends! It is a completely self-paced online course - you decide when you start and when you finish.
How long do I have access to the course?
How does lifetime access sound? After enrolling, you have unlimited access to this course for as long as you like - across any and all devices you own.
What if I am unhappy with the course?
We would never want you to be unhappy! If you are unsatisfied with your purchase, contact us in the first 30 days and we will give you a full refund.
Here's the truth: the biggest complaints I hear from those who feel they are here for something bigger are that you don't trust your intuition and you really want to get out there and help people, but something always seems to manage to hold you back from doing that.
Maybe you're afraid that you'll get your readings wrong and be embarrassed or called a fraud.
Maybe you're afraid you'll hurt someone by giving the wrong advice.
I get it because I've been there, but now I get to help people break through these blocks every single day — and get paid for it! — because I faced my fears and did the work to elevate myself and get myself out there.
You can do it too!
What better way to become an expert card reader giving life-changing readings to others than to dive in deep with your cards and learn how to communicate with them on a Soul level? Your Soul will NEVER steer you wrong, so learning to listen to it is the best thing you can do for yourself if you want to put yourself out there and actually HELP people.
This year — 2020 — has been one heck of a crazy year. People are more isolated, more confused, more fearful, more alone, and have more questions than ever before.
It's becoming more urgent for people like YOU to share your gifts and your medicine in the world.
You are needed to your shine your light and help others heal and get unstuck.
So what are you waiting for? You only have something to lose if you take NO action. You'll stay in your safe little comfort zone right where you are and miss out on the Soul work that you are here for.
But say yes today and start going deep into your oracle cards, and I promise you, you will be amazed at just how much it lights you up to use your unique gifts to help others heal (and get paid to do it).
If you are serious about developing your spiritual gifts so that you can make a difference in the world doing work you love (and getting paid for it!), then celebrate yourself and get Elevated OracleTM now while it's still at this crazy low price with all of these special, limited-time bonuses.